Welcome to the Abbotsford Minor Hockey Officiating page!
This page is where you will find everything you need to become an official or to continue your officiating career.
This season Abbotsford Minor Hockey will be a leader in its decision to fully support the development of brand new, young and more experienced officials by providing the necessary knowledge and skills needed to become better, capable and confident officials. The development team will be made up of officials with various levels and years of experience. These senior officials will work alongside our Referee in Chief, Shawn McCaskill as they have shown a desire to give back to the program and exemplify what we are striving for in all of our officials.
NEW OFFICIALS
Interested in becoming an official?
If you or your child is interested in certifying as an official you must register for and complete the Hockey University - Officiating online modules. The course is a pre-requisite to becoming an official. The cost is $20.00 plus tax and once the course has been completed, it never expires. The course can be accessed at this link http://www.bchockey.net/Officiating/GettingStarted.aspx
Please contact our Referee in Chief, Shawn McCaskill before signing up as there is limited space available. He can be reached by email at ric@abbotsfordminorhockey.ca
RETURNING OFFICIALS
All returning officials must attend a re-certification clinic. These clinics are done by BC Hockey as Super Clinics and are usually done in zones. Please register for these clinics at www.bchockey.net/clinics
Please remember that all Officials that will be 18 years or older MUST complete a Criminal record Check. This can also be done on the BC Hockey Website. http://www.bchockey.net/Officiating/GettingStarted.aspx Step 2
Officiating Level System Review - level_system_e.pdf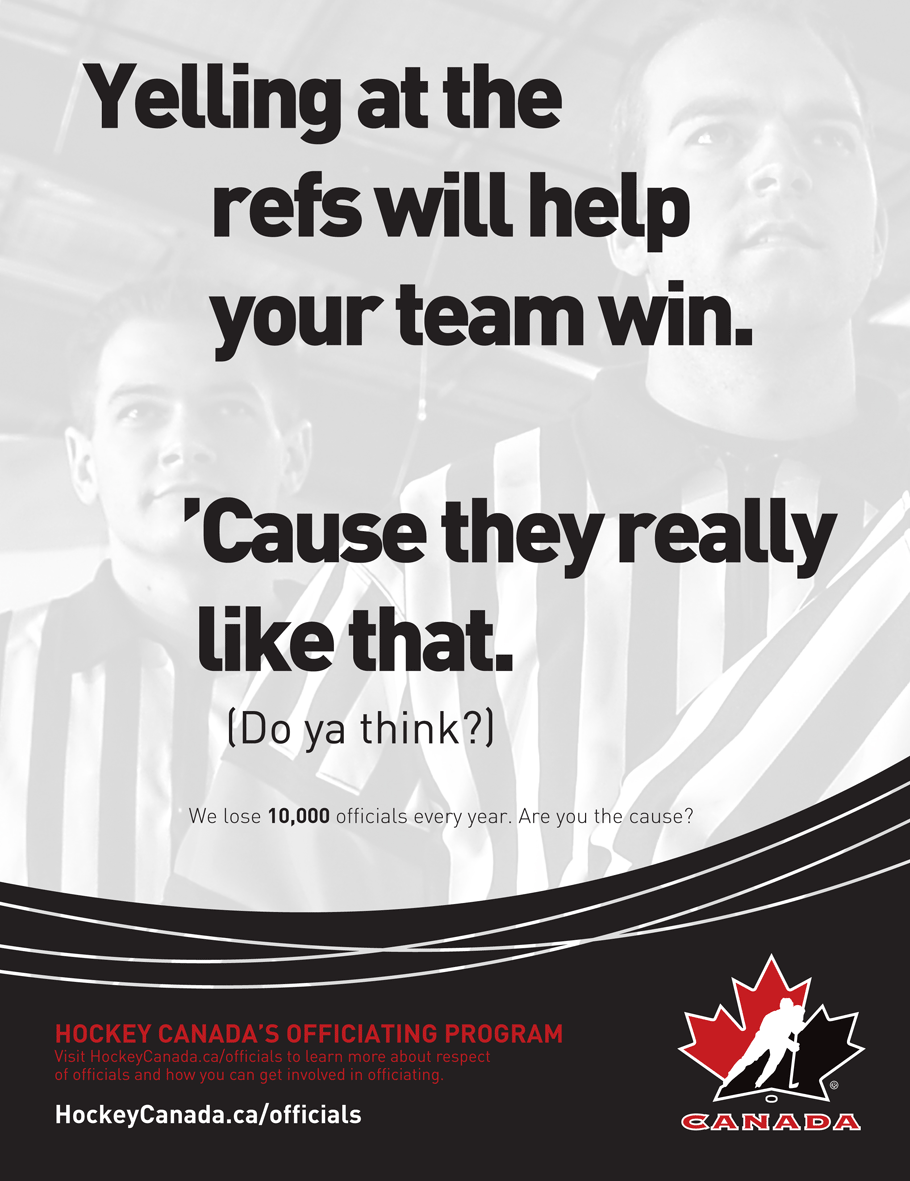 Officiating Development
We will be hosting several on ice clinics throughout the year. These clinics will be open for all who want to attend. These ice session will be an integral piece of our development model. Please check back to this page below to see a list of updated clinics as they become available.
OFFICIALS EVENTS
The officiating program will be hosting various events throughout the year in the spirit of both team building and the idea that exposure to excellent standards of officiating contributes to the overall development of officials. One example is a night for new officials to "supervise" more experienced officials at a Midget/Bantam AAA game. Another will be an opportunity to go to a Vancouver Giants game as part of BC Hockey's WHL Night and will get to meet the game Officials.
RECOGNITION
Every year we hand out awards to 3 deserving officials for their hard work, dedication and commitment to personal development. These awards are selected annually by the Officiating Development Team.
CONGRATULATIONS to the following officials for the 2016/17 season
Most Improved Official: Trey Taylor
Most Promising Official: Josh Jordan
Most Deserving Official: Angus Middleton
The 2016/17 season was a special one for the Officiating program as our Referee in Chief Shawn McCaskill was awarded both the PCAHA Head Referee of the Year Award as well as the BC Hockey Officiating Development Award.
DEVELOPMENT TEAM
The following individuals will be make up our Development Team. If you have any questions, concerns or inquiries please do not hesitate to contact us.
Shawn McCaskill - Referee in Chief - ric@abbotsfordminorhockey.ca
Kyle Simms - Senior Supervisor
James Chassie - Senior Supervisor
Nathan Geddes - Senior Supervisor
Josh Hutchinson - Senior Supervisor
Angus Middleton - Junior Supervisor
Evan Dahl - Junior Supervisor
Robert Nawrot - Junior Supervisor
Joel Byron - Junior Supervisor/Shadow
Lukas Wall - Junior Supervisor/Shadow
Jake Enns - Junior Supervisor/Shadow